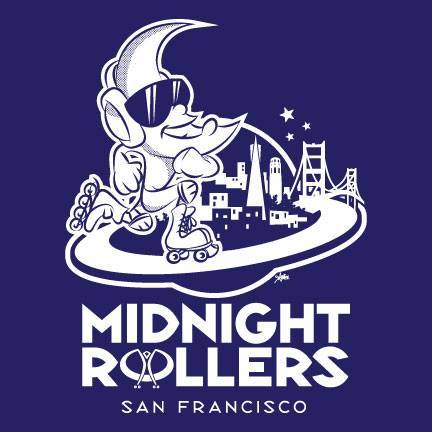 Friday, July 8, 2016 – The San Francisco Friday Night Skate
What began with a small group of skaters rolling on the earthquake damaged Embarcadero Freeway in 1989 grew into over 700+ skaters rolling through the streets of San Francisco every Friday night. Our example spread to other cities like Los Angeles, Amsterdam, London, Frankfort and more cities in the U.S. and abroad. The largest Friday Night Skate happened in Paris where they had over 35,000 skaters participating.
On Friday, July 8, we will kick off Skate San Francisco – The Barbary Coast Experience rolling with The Midnight Rollers on San Francisco's Friday Night Skate. We meet at the Ferry Building at Market and the Embarcadero at about 8:00 P.M. We will take off at 9:00 P.M. for a rolling skate party that winds through a 12-mile loop through the City. Our route will take us to Pier 39, Fisherman's Wharf, Aquatic Park, the Marina, the Palace of Fine Arts, Union Street, the Broadway Tunnel, the Stockton Tunnel, Union Square, the "Concrete Canyons" and back to the Ferry Building where we began.